Petey Atric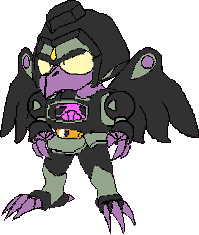 Petey Atric is the grandson of Jerry Atric. Petey is currently at the Ninja Crow Academy for training. He wants to be a lot like his grandfather. He almost look like Jerry, but he's young. His armor and wings look like Jerry, but black and grey. As a result, Petey talks, thinks, acts, looks, and probably smells like a Master. His skills begin to improve. He later became a member of the Third in Commanders of the Ninja Crows. He looks after Seymour Cream Cheese and his family.
Jerry Atric (grandfather)
Terrabell (wife)
Relationships
Edit
Terrabell, (love interest) he develops a crush on her.